In particle physics, the spin (S in the picture) is a fundamental property of particles, which is represented by a quantum number. The allowed values of S are: 0, 1/2, 1, 3/2, 2, etc. Particles with half-integer spin are known as fermions. Examples of fermions include: electrons, positrons, quarks that make up the protons and neutrons, and neutrinos. Particles with integer spin are known as bosons. Examples include the Higgs boson, the gluon, the photon, etc. Most of the known elementary bosons have spin=1. The exceptions are the Higgs boson, which has spin=0, and the graviton, expected to have spin=2.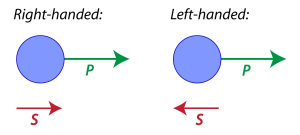 The spin of a particle is used to define its handedness: a particle is right-handed if the direction of its spin is the same as the direction of its motion. The particle is left-handed if the directions of spin and motion are opposite.
However, because the direction of motion depends on the reference system, if we take a reference system moving faster than the particle (something that is always possible for massive particles that cannot move at the speed of light), the particle will appear left-handed in this reference frame even if it was right-handed in another system.