About the books
Enjoy free-to-download colouring books by the ATLAS Collaboration, ideal for kids (and adults) of all ages! In these books, you'll discover how experiments detect particles, what their properties are, and how scientists are working together to learn more about our Universe.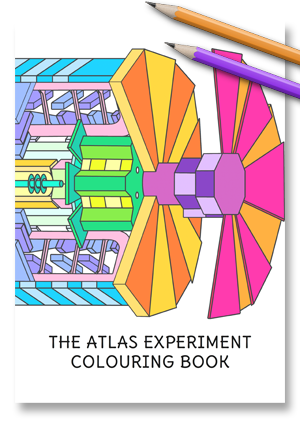 ATLAS Experiment
Colouring Book
Available in 16 languages, the ATLAS Experiment colouring book introduces kids to the field of High-Energy Physics and the work being carried out by the ATLAS Collaboration.
Learning objectives:
ATLAS scientists work together to study particles, the basic building blocks of our universe.

ATLAS scientists use a detector to find and identify particles.

The ATLAS Collaboration is diverse. Anyone can be an ATLAS scientist.

The Standard Model and the Higgs Boson.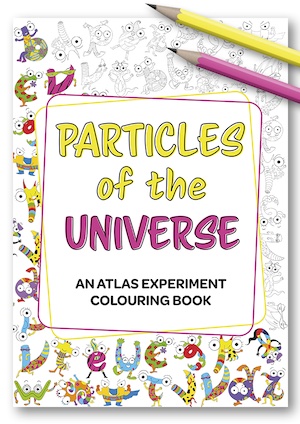 Particles of the Universe
Colouring Book
Everything around us is made up of tiny, elementary particles. In this colouring book, kids can meet all of the particles that scientists have discovered (so far!) and learn about the role they play in our Universe.
Learning objectives:
Matter is made of tiny elemental particles.

Particles are the building blocks of all matter and are responsible for forces.

Scientists use experiments to find and study particles.

There are different types of particles with different functions.
Downloads
More versions of "Particles of the Universe" in different languages coming soon...
Credits and Terms of Use
The ATLAS Experiment Colouring book is free to download for personal and educational use. Content Copyright: ATLAS Experiment © 2021 CERN
Credits for the Particles of the Universe Colouring Book:
Particle Illustrations by Carolina De Luca
Additional Illustrations by Mariana Velho
Text and Project Development by Katarina Anthony and Mariana Velho for the ATLAS Collaboration
Credits for the ATLAS Experiment Colouring Book:
Illustrations by CERNland.net, Carolina De Luca and Rebecca Pitt
Text by Katarina Anthony for the ATLAS Collaboration
Project development by Veronica Ruberti and Katarina Anthony
Pages 4-5; Characters of Bob and Betty: Designed by ovnii.it for CERNland.net
Pages 9-11: Designed by Carolina De Luca, carolinadeluca.com
Page 12: Designed by Rebecca Pitt, based on earlier work by Joao Pequenao for the exhibit www.the-higgs-boson-and-beyond.org